Related Events [ Free Admission ]
Camera Crayon – Exciting Films Produced by Children! –

 7.17(Mon)14:30
In this year's Camera Crayon, we present Jumpin' Jet Cola produced by Kawaguchi Kids Movie Club and the best TV shows produced in the Audio Visual Learning Program. To be followed by a Q&A with the children who made the shorts. Enjoy the creativity of the children.
*No English Subtitles
JUMPIN' JET COLA
Rika is a 6th grader who likes to experiment. She comes up with the idea that if she mixes the highly carbonated Coca Cola and Mentos, she should be able to use it as a fuel to fly and decides to use this experiment as her summer assignment. Shizuka, her best friend, is concerned and tries to stop her, but Rika goes ahead with her plans. When she carries out the experiment, the reaction is so strong that she loses control and it sends Rika to the future.
Best of Audio Visual Learning Program
The Audio Visual Learning Program is an academic curriculum where schoolchildren in Saitama Prefecture participate and learn how to produce audio visual works. Out of approximately 350 works produced last year, we selected the best ones and screen 8 of them including "Recycling Is a Mission", which advocates the importance of recycling, and "Compact City Warabi", which introduces unexpected charms of Warabi City.
Free Admission (On a first come first served basis)

For inquiries, please contact Audio Visual Museum Camera Crayon TEL: 048-265-2590
Made in SKIP City

 7.21(Fri)17:30
A special screening of two films, Kobaton The Movie, a short film produced by filmmakers based in SKIP CITY that introduce attractions in Saitama, and Go! Go! Truck Girl, a short film about a new female truck driver, produced by Saitama Trucking Association.
*No English Subtitles
Kobaton The Movie: Kokoro ni atarashii kaze wo
©2017 Saitama Prefecture /SKIP CITY Sai-no-Kuni Visual Plaza
Nick wanted to change himself and came to Japan from the United States. He meets Takashi and they end up traveling together in Saitama. Everything that is normal for Takashi, Nick experiences for the first time. What does Nick feel and gain in Saitama? It's a road movie of Nick and Takashi.
2017/Japan/23min.
Director: Takeshi Narita
Cast: Nick (Timebomb), Takashi Kanai (Taiiku)
Director: Takeshi Narita
Narita is the President of unap. In 2015, he directed "Art Documentary LOVE – The World of Photographer Leslie Kee". He directs TV dramas, various behind the scenes programs, animation specials, commercials and more.
Go! Go! Truck Girl
©2016埼玉県トラック協会
Michiru doesn't last long on any jobs she takes. When she decides to become a truck driver, it begins to feel right with the support of her colleagues. Just as she is about to get the hang of it, her father shows up trying to convince her to quit and come back home.
2017/Japan/28 min.
Director: Madoka Kumagai
Cast: Yui Ouchi, Kagetora Miura, Arisa Murakami
Director: Madoka Kumagai
Born in Osaka, Kumagai has won awards at various film festivals including PFF Award. Her short film When The World Tastes Gritty (2013) was nominated in the Short Length Competition at this festival. In 2016, she directed Good Bye, Talking Dog, which screened as the Opening Gala at this festival and released theatrically.
---
Free Admission (First come first served basis)
Contact: Digital SKIP Station TEL: 048-264-7777
Mama Theater

 7.20(Thu)10:30
*This event is for adults accompanying babies only. Sound is lower and lighting is brighter than a regular theater setting.
Mama Theater is a baby cart accessible theater equipped with private space to change diapers and breast feed babies. Enjoy the movie experience with your babies. This year, we present a definitive film of the romance genre, Amelie (2001).
*No English Subtitles
Amelie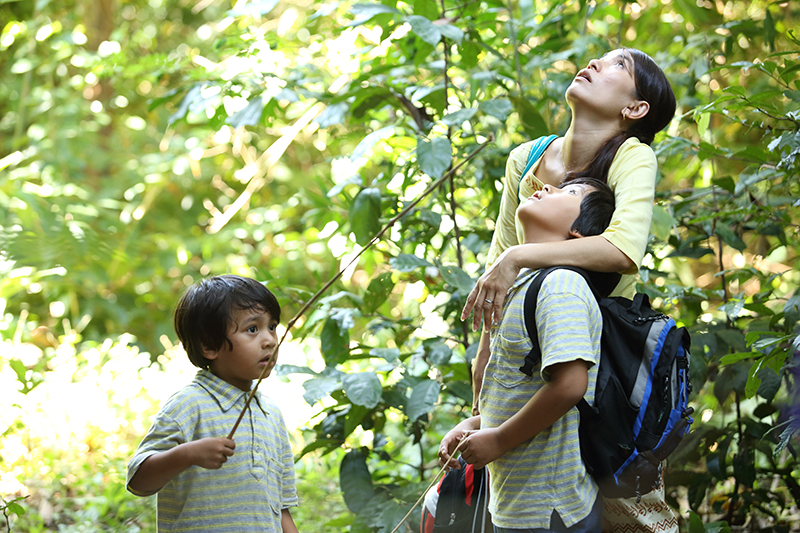 © 2001-UGC IMAGES-TAPIOCA FILMS-FRANCE 3 CINEMA-MMC INDEPENDENT-Tous droits reserves
Amélie is an innocent and naive girl who likes to play with her imagination. As she works at a café in Montmartre, she enjoys herself observing people. One day, she falls in love with Nino.
2001/France/121 min.
Director: Jean-Pierre Jeunet
Cast: Audrey Tautou, Mathieu Kassovitz, Dominique Pinon
Distributor: Albatros Film
Free Admission (First come first served basis)

Capacity: 30 seats

For Inquiries: SKIP CITY INTERNATIONAL D-Cinema FESTIVAL Office TEL: 048-263-0818
Screening of A Community Based Cinema Brother Blossom

 7.20(Thu)14:30 
Brother Blossom was shot and produced in Yorii-machi, Saitama Prefecture, and features various locations including the old Yorii elementary school building. In addition to the professional cast, local residents took part in the film as cast members and over 100 residents volunteered as crew members. We proudly present Brother Blossom, community based cinema in every sense of the word.
*No English Subtitles
©Chocolate Box
A boy is drawn into the world of crime when his family falls apart due to his mother's love affair. While he is serving time at a reformatory, his father dies from sickness. After the boy gets out, his probation officer arranges a job for him as a cook at an orphanage.
2016 / Japan / 94 min.
Director, Screenplay, Editing: Haruka Shima
Cast: Ryuichi Ando, Mami Kumagai, Mika Akizuki, Bro.TOM
Director: Haruka Shima
Born in Kagoshima Prefecture, Shima is a playwright and was awarded a prize by the Agency for Cultural Affairs for "Ichigo jigoro to ichinichibana" (1992). Her credits include "Hanano himuro" (1993), "Taiyo no kodomotachi" (1997), and "Gama" (2003). She made her directorial debut with Mageshima Cross (2012).
 

Free Admission (First come first served basis)

For Inquiries: SKIP CITY INTERNATIONAL D-Cinema FESTIVAL Office TEL: 048-263-0818